Hey ladies, I know it's been forever ! I've been neglecting this blog unfortunately -___- Hopefully I can start getting in the habit of blogging again.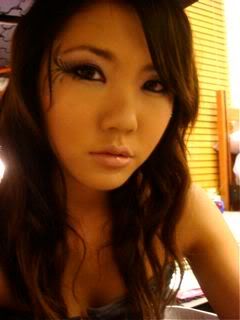 I went to Monster Massive for Halloween. It's a rave and it was awesomeee <3>
> MAC Studio Sculpt Foundation
> Joppa Minerals Full Coverage Foundation in Medium Tan
> Benefit Boi-ing Concealer
> MAC Pretty Baby Beauty Powder
> MAC Perfect Topping Mineralize Skinfinish
> Urban Decay Book of Shadows Volume II (Ecstasy, AC/DC)
> MAC Blacktrack Fluidline
> Urban Decay Primer Potion
> Rhinestones from Michael's
> Benefit Boi-ing Concealer
> Too Faced Sun Bunny Lip Bronzer
What did you do for Halloween?
SEPHORA SALE = 20% OFF EVERYTHING, ENDS TODAY NOV. 2 (sorry for the late notice!)
I bought Benefit Boi-ing Concealer and the Urban Decay Book of Shdows Volume 2